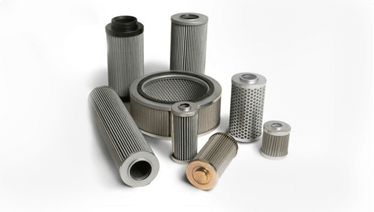 With more than 35 years of experience, you can count on our company to supply the effective hydraulic and lubrication filters your firm needs. Northern Lights Industrial Supply DBA NLI Filters of Vero Beach, Florida, offers broad range of commercial and industrial products. This includes every hydraulic and lubrication filtration system component your equipment needs.
All Hydraulic and Lubrication Filtration System Components Sold
Make our company your source for every component of your hydraulic and lubrication filtration system. We offer filters, cartridges, and bags with many different options, allowing our products to fit the needs of any commercial or industrial application. For example, the bag and cartridge housing for these filters come in steel, stainless steel, plastic, and lined. ASME-code and non-code options are available. We offer standard hydraulic and lubrication filters, as well as filters for high pressure system and custom-designed filters.
Four options are available for the cartridge: resin bonded, yarn wound, pleated media, and spun. The resin bonded varieties are either white or brown resign impregnated. Their micron rating range from 2 to 150 and they come in 3" to 4" in length. Yarn wound filters are offered in 13 different medias. There are six core materials, core covered, and extended cores. The micron ratings are available from 0.5 to 300 and they are available in 3" to 40" in lengths.
Pleated-media varieties of hydraulic and lubrication filters can be polypropylene, cellulose, micro-glass, steel, and stainless steel. Their micro rantings go from 0.2 to 1000. Many end cap styles are available for pleated-media, including spin-on, DOE, SOE double "O" ring, and others. The end cap material and cores are always compatible with the filter media. Finally, the spun filters use a polypropylene media. Their micron ratings range from one to 100 and they are available in 3" to 50" lengths.
Finally, hydraulic and lubrication filtration system bags can be made from a wide array of materials. We offer felt and mesh media, polyester, viscose rayon, polypropylene, nylon, Teflon, and saran options for bags. Both standard and custom sizes and designs are available. Our company also sells plate and frame media, roll media, Vorti-Siv, and FINEX screen bag options.
Hydraulic and Lubrication Filters For Every Application
Depend on us to provide a filter for every commercial and industrial application at your facility.
Hydraulic and Lubrication Filter Options and Features
End Caps and Core material: Steel, Stainless Steel, Aluminum, Epoxy Coated Aluminum, and plastic.
Media: Micro- Glass, Cellulose (paper),stainless steel, brass, bronze, and other medias required for a specific application.
Standard and custom and standard sizes and designs.
In addition to our own original equipment, we also sell hydraulic and lubrication filters that are equivalent to products from the following manufacturers and brands:
American Felt & Filter Company
ARBURG
ARGO-HYTOS
Camfil USA
CUNO
Donaldson Company
EMD Millipore
Engel
Fairey Arlon
Filterite
Filtroil, Inc.
FSI
General Electric
Hayward
Hillard Corporation
Hycon Limited
Johns Manville
Kaydon Filtration
MAHLE
Marvel Engineering
MP Filtri S.p.A
Okuma
Pall Corporation
Pall Gelman
Parker Hannifin Corporation
Parker Velcon
Pentek (Ametek)
Purolator Facet, Inc
Refilco
Sartorius
SERFILCO
Sethco
Schroeder Industries
Taisei Kogyo Co., Ltd.
Triple R
Van Dorn
Vickers
Vorti-Siv