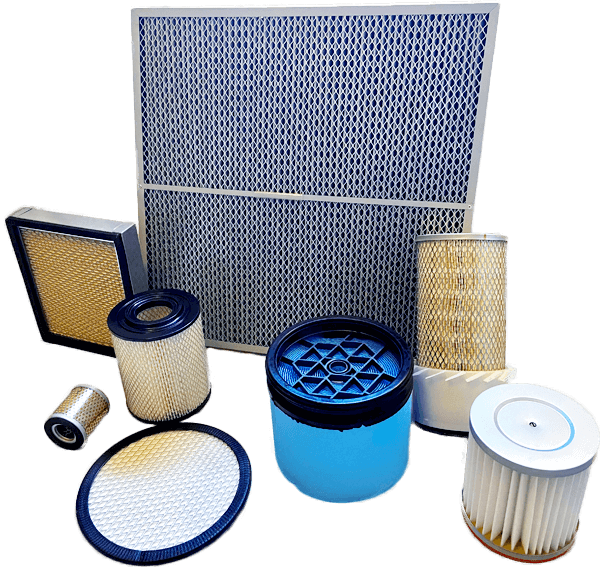 Ensure the air within your facilities and systems is properly filtered with products from Northern Lights Industrial Supply DBA NLI Filters. We provide air filters for a wide variety of commercial and industrial applications. Since our firm is based in both Vero Beach, Florida, and Philadelphia, Pennsylvania, we are well equipped to serve clients throughout North America with export capabilities. In addition to standard air filters, our company also sells air oil separator filters and compressed air filters.
Our firm has more than 35 years of experience in the filtration industry. Thanks to our extensive experience, we have the technical knowledge necessary to recommend the best filters for your needs. Give us a call if you need any advice on which air filters would function most effectively for your application.
Boost Health And Safety With Our Indoor Air Quality Filters
Keep the indoor air quality in your facilities at a healthy level with the right filter. Our indoor air quality filters are specially designed to cut down on the pollutants, contaminants, and debris that may make your employees ill or compromise your product.
HVAC Filters For A Wide Range Of Equipment
Heating, ventilation, and air conditioning (HVAC) units require filters to operate properly. When your commercial or industrial units need new HVAC filters, count on us. We provide filters for a wide range of HVAC equipment, as well as related filter supplies. Throw-away filters, box filters, rigid filters, synthetic filters, high-efficiency particulate air (HEPA) filters, pleated filters, and bags are all available.
Powerful Vacuum Pump Filters To Ensure Performance
When your production requires the use of vacuum pumps, a quality filter is necessary to ensure the process works as intended. Our vacuum pump filters keep out contaminants and remove any solid particles or by-products created during the vacuum process. The vacuum pump filters—as well as the air intake filters and inline filters— are made with steel or stainless steel housing materials. Exotic metals are also available. The connection sizes begin at ½ inch and go up. We sell filters specially designed for high pressure applications, as well as custom designs.
Long Lasting Air Intake Filters For Industrial Applications
Commercial and industrial air intake applications need a dependable filter to provide the best performance possible. Avoid inefficiency and breakdowns by getting your air intake filters from our company. All our filters are carefully constructed from the highest quality materials, ensuring they are effective and long-lasting.
Inline Filters You Can Rely On
Count on our company to supply efficient and durable inline filters. These filters are an important component to many commercial and industrial production systems. Let us know what kind of inline filter your particular application needs and we will supply it for you.
Filters For All Air Intake, Blower, Inline Pressure, and Vacuum Applications
We offer air compressor / blower / vacuum filters with a variety of options, including standard designs or customized to your application.
Filter Options and Features
Housing materials: Steel, stainless steel, and plastic, and exotic materials.
High and low pressure, ¼" connections and up.
Replacement elements; 13 different medias, .3 to 700 microns, and temperatures to 1000 F.
Molded End material: PVC, urethane, silicone, and epoxy.
Metal End material: stainless steel, epoxy coated aluminum, and plastic.
Core material: steel, stainless steel, epoxy coated aluminum, and plastic.
Available in Standard and Custom sizes and designs.
Take advantage of our diverse array of options to find the ideal product for your application. In addition, we sell products that are equal to or even better than products from these manufacturers and brands:
Air Maze
Anderson
Airguard
American Air (AAF)
American Felt
Ametek
Arburg
Argo
Arrow
Atlas Copco
Balston
Bauer
Becker
Busch
Cambridge
Chicago Pneumatic
CompAir
Commercial
Conair
Consler
Cuno
Curtis
Davey
DCE Volkes
Deltech
Dollinger
Donaldson
Dustex (Dusty)
EMI
Edwards
Engel
Facet
Fairy Arlon
Farr
Filterite
Filtroil
Flanders
Flex-kleen
FLOW EZY
FSI
Fuller
Gardner Denver
Grimmer Schmidt
G.E.
Gelman
Glasfloss
Hankison
Hayward
Henderson
Hilco (Hilliard)
Hycon
IFM
Ingersoll Rand
Jeager
Joy
Kaeser
Keene Kaydon
Kellogg
Kinney
Leroi
Leybold
Mac
Mahle
Mann
Manville
Marvel
Millipore
Mikropul
MP Filtri
Nordson
Norgren
Norblo
Nuclepore
Okuma
Pall
Pangborn
Parker
Piab
Pioneer
Pure Aire
Purolator
Refilco
Rexnord
Rietschle
Sartorius
Schramm
Serfilco
Sethco
Schroeder
Servodyne
Stoddard
Stokes
Sullair
Sullivan/ Palatek
Taisei Kogyo
Torit
Triple R (RRR)
UAS
Ultrafilter/ Comp Air
Universal
Van Dorn
Velcon
Vickers
Vorti—Siv
W.W. Sly
Webster
Welch
Western Precipitation
Westinghouse
Wheelabrator
Wilkerson
Worthington
Zander
Zeks
Zinga