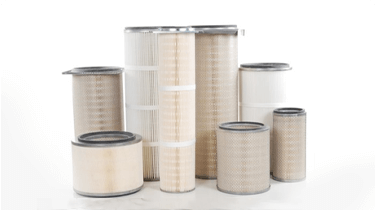 Keep your facility dust-free to prevent product contamination and employee health issues. Many commercial and industrial processes result in large amounts of dust and debris, which can be highly detrimental to people, equipment, and manufactured goods. Fortunately, our dust collection filters can keep your dust problem in check. At Northern Lights Industrial Supply DBA NLI Filters, we sell a wide range of filtration products.
Our dust collection filters come in both standard and special sizes. Let us know if your application requires a custom filter and we will be happy to create one for you. All of our filters are designed to fit OEM units, so there is no need to worry about a poor fit causing inefficiency.
Wide Range Of Materials Available For Dust Bags
Ensure your filter continues operating normally by replacing your dust bags. The bag captures the dust to be collected then through Pulse Jet, Reverse Air or Shaker the dust is released into a Silo or collection container that actually contains the dust that was caught in the filter. When it comes time to replace your bags, talk to our staff to find the perfect size and fabric for your needs.
Replace Your Dust Collection Cartridges, Pleated Bags, Panels Or Silo Vent Filters For Maximum Performance
Maintain optimal performance for your filtration system by replacing your dust collection filter. The filter captures dust, preventing it from entering your application or the open air of your facility. While they can contain large amounts of debris, eventually they do need to be replaced. Reach out to our firm to learn how long you can expect your dust collection cartridges to last.
Dust Collection Envelopes With Massive Holding Capacities
Like our bags, cartridges, pleated bags and silo vent filters, the dust collection filters hold onto the dust gathered by the filtration system, then released into a holding container until it can be properly disposed of or reused. Envelopes offer more space in a smaller size due to how they are constructed. To find out whether a bag, cartridge, panel, silo top vent filter or an envelope would work best for your filter, speak with one of our knowledgeable staff members.
Custom And OEM Quality Equivalent Filters Available
Since we serve a broad range of commercial and industrial clients, we strive to offer an inventory that is just as broad.
Dust Collection Filters Options and Features
Bags, envelopes, pleated bags, and Cartridges
Bags and envelope material: Polyester felt and sateen, Cotton sateen, Polypropylene felt and Twill, Basalt, Aramid/Nomex, Beane and others.
Cartridges and Pleated Bags: Spun Bond Polyester, Aramid/Nomex, Nano Fiber (Ultra-Web replacement),  and other materials.
Bags, envelopes, pleated bags, and Cartridges are also available with Flame Retardant (FR), Oleophobic, Teflon laminated, and other treatments required for the application.
Standard and custom and standard sizes and designs
In addition to our own custom products, we offer products that are equal to or better than filters from the following companies:
AAF International
Aercology
Airflow Systems
Airguard
Asco valve repair kit equivalents
Belgrade
Besser Appco
C & W
Cambridge Filter Corporation
Camfil Farr USA
Carter-Day International, Inc.
Conair
Con-E-Co
Cyclonaire
Donaldson Company
Dustex
Empire
Entech APC
Flex-Kleen
Gardner Denver
Goyen repair kit equivalents
Griffin
H.B. Fuller
Hoffman
Lamson
MAC Equipment
McNeilus
Nederman MikroPul
Nordson
Norblo
Oneida
Pangborn Corporation
Pneumafil
Robovent
Ross
Scientific
Sly Inc
Steelcraft
Stephens
Torit
United Air Specialists
Vince Hagen
WAM
Western Precipitation Corporation
Wheelabrator Technologies