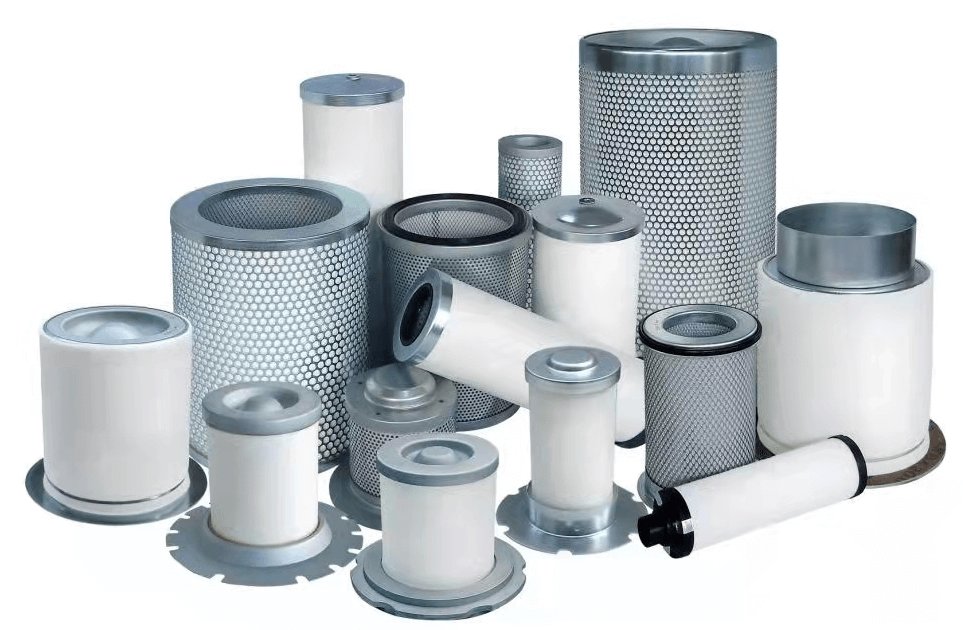 Keep all of your facility's systems operating at top performance levels with filters from Northern Lights Industrial Supply DBA NLI Filters. We are based in Vero Beach, Florida, and Philadelphia, Pennsylvania, and sell a diverse array of commercial and industrial filters, including air oil separators, coalescers, and air exhaust filters. Our firm also sells compressed air filters and many other types of air filters.
Our air oil separators, coalescers, and air exhaust systems come with steel, stainless steel, and epoxy-coated aluminum core materials. End caps are also available in PVC or epoxy. The borosilicate glass media is made from 99.99% D.O.P. Both standard and pleated designs are sold. If you ever need a recommendation or in-depth details for a particular product, reach out to us. With over 35 years of industry experience, we can utilize our technical expertise to help you find the best products for your specific commercial or industrial application.
The main function of our air oil separators is to prevent oil from going where it shouldn't go. These separators trap oil so that it cannot enter the intake and reduce your system's efficiency. In addition, this prevents oil build-up in the wrong areas, which can lead to poor performance and even system damage. Get more details on our air oil separators by contacting our staff.
Powerful And Effective Coalescers
Prevent contamination during your facility's processes by using effective coalescers. These types of filters leverage the physical phenomena of coalescence to separate liquids, liquid emulsions, and particulate contaminates. Many different kinds of systems utilize these filters, especially those in the oil, gas, and chemical industries. If you need assistance finding the proper coalescers for your applications, let us know so we can help.
Cut Down On Your Facility's Air Exhaust
Emissions from commercial and industrial facilities can be harmful to both the environment and the people who work there. Cut down on emissions from your systems by using efficient air exhaust filters. We sell air exhaust filters of all shapes and sizes, allowing us to provide you with an appropriate system for almost any kind of commercial or industrial application. Speak with our staff for assistance ordering the correct filter for your needs.
Air/Oil Separators For All Applications
We offer air/oil separators with a variety of options, including standard designs or customized to your application.
Air/Oil Separators Options and Features
End Caps and Core material: Steel, Stainless Steel, Aluminum, Epoxy Coated Aluminum.
Micro- Glass media, .3 micron.
Standard and custom and standard sizes and designs
Take advantage of our diverse array of options to find the ideal product for your application. In addition, we sell products that are equal to or even better than products from these manufacturers and brands:
Air Maze
Anderson
Airguard
American Air (AAF)
American Felt
Ametek
Arburg
Argo
Arrow
Atlas Copco
Balston
Bauer
Becker
Busch
Cambridge
Chicago Pneumatic
CompAir
Commercial
Conair
Consler
Cuno
Curtis
Davey
DCE Volkes
Deltech
Dollinger
Donaldson
Dustex (Dusty)
EMI
Edwards
Engel
Facet
Fairy Arlon
Farr
Filterite
Filtroil
Flanders
Flex-kleen
FLOW EZY
FSI
Fuller
Gardner Denver
Grimmer Schmidt
G.E.
Gelman
Glasfloss
Hankison
Hayward
Henderson
Hilco (Hilliard)
Hycon
IFM
Ingersoll Rand
Jeager
Joy
Kaeser
Keene Kaydon
Kellogg
Kinney
Leroi
Leybold
Mac
Mahle
Mann
Manville
Marvel
Millipore
Mikropul
MP Filtri
Nordson
Norgren
Norblo
Nuclepore
Okuma
Pall
Pangborn
Parker
Piab
Pioneer
Pure Aire
Purolator
Refilco
Rexnord
Rietschle
Sartorius
Schramm
Serfilco
Sethco
Schroeder
Servodyne
Stoddard
Stokes
Sullair
Sullivan/ Palatek
Taisei Kogyo
Torit
Triple R (RRR)
UAS
Ultrafilter/ Comp Air
Universal
Van Dorn
Velcon
Vickers
Vorti—Siv
W.W. Sly
Webster
Welch
Western Precipitation
Westinghouse
Wheelabrator
Wilkerson
Worthington
Zander
Zeks
Zinga